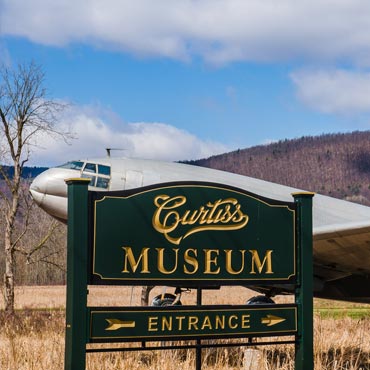 The Glenn H. Curtiss Museum, bearing the name of Hammondsport's favorite son, is located on State Route 54, one half mile south of the village of Hammondsport, New York. Dedicated to the memory of pioneer aviator, Glenn Curtiss, the museum contains a priceless collection relating to early aviation and local history. The museum also features a 75-seat theater, large open area for special events and a museum store. In addition to seeing the museum displays and exhibits, visitors are welcome to visit the Restoration Shop, talk with volunteer craftsman and watch them work on historic aircraft.
Glenn Curtiss began his career as a builder of bicycles and then, motorcycles. In 1907 he became the "fastest man on earth" when he attained a speed of 136.4 MPH on his V8 powered motorcycle. An exact reproduction of this bike is one of several Curtiss motorcycles that are on display. On July 4th, 1908, Curtiss gained notoriety of a different kind when he flew his flying machine, named the "June Bug", a distance of over 5000 feet to win the Scientific American Trophy. This was the first pre-announced, public flight in America – a feat that earned him pilot's license # 1. A full-sized reproduction of the "June Bug" is one of several historic aircraft on display.
There are so many fun things to do and see around Finger Lakes region, narrowing down your itinerary will seem like a challenge. Here are some of our favorite resources to spark your imagination.