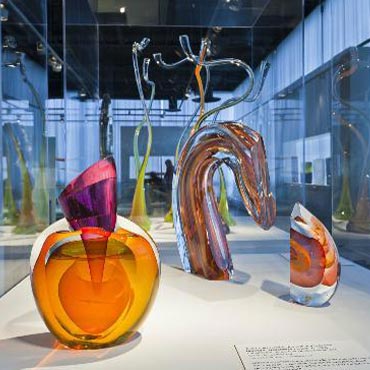 It began in August, 1992 in the course of a conversation between two friends, Phil Phibbs, who had recently retired as president of the University of Puget Sound and artist Dale Chihuly who had grown up in a neighborhood near the campus and had attended the university.
The concept of a large glass studio, where visitors could watch artists create art from molten glass, was an integral part of the original plan – and the Hot Shop Amphitheater, located inside the 90-foot tall steel cone, fulfills that description today. The Museum was envisioned as a center that would nurture artists, celebrate the dramatic new Studio Glass movement and encourage creativity. This vision is realized through the exhibitions in the galleries, the art installations on the outdoor plazas, the hands-on art studio, and the Museum's diverse educational programs, as well as the Hot Shop.
Today, the Museum's stainless steel cone serves as a beacon to a stunning contemporary art museum as well as a symbol for the restoration of a waterway and the revitalization of a city.
There are so many fun things to do and see around Finger Lakes region, narrowing down your itinerary will seem like a challenge. Here are some of our favorite resources to spark your imagination.